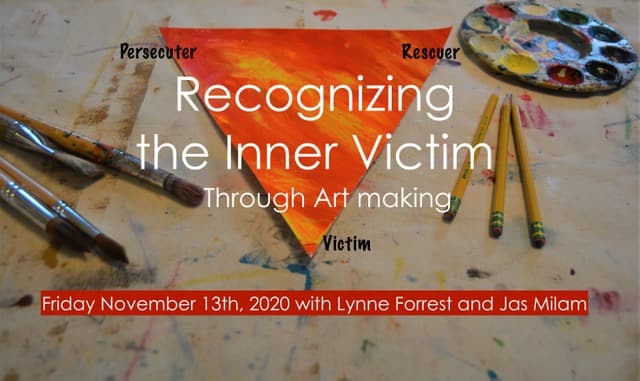 2021 Dates TBA
"Recognizing the Inner Victim through Art"… with Lynne Forrest, author and originator of The Reality Formula®️, and Jas Milam, Registered and Board Certified Art Therapist.
Come learn about the Dance of Codependency and discover how YOU do it at work, at home and in your relationship with yourself. Are you the Victim? The Rescuer? The Bully? Learn about all three and make art about your starting gate position on your way to CHANGING OLD PATTERNS! The evening will include some didactic teaching, a guided meditation, hands-on art-making, and group processing.
No experience necessary, but it is highly recommended that you read Lynne's article, "Faces of Victim" ahead of time for best preparation.
Daily Practice
1322 Dodds Avenue
Chattanooga TN 37404 (parking in the rear)
Cost $150 includes all materials
Click here to register! (November 13th, 2020 from 3pm – 7pm $150)
Group size is limited to ten (10) so register soon. It's going to be an enlightening evening!
ABOUT THE FACILITATORS
Lynne Forrest, is author of "Life Beyond Victim Consciousness," and originator of The Reality Formula®️, A recipe for peace and transforming consciousness. As a perpetual student of life and consciousness, Lynne has devoted her career to studying with masters of various disciplines. Family dynamics, Jungian principles; dreams and shadow work, psychodrama and energy as well as the laws of manifestation, body-oriented practices such as yoga, physical unwinding and qigong are just some of the approaches Lynne applies in her work with others. Lynne has been a spiritual mentor and life coach since 1985 and currently lives in the Tampa Bay Area of Florida.
Jas Milam, ATR/BC is a working artist and a registered/board certified art therapist. She did her undergraduate studies in early childhood development and studio art at Sarah Lawrence College and received her Masters of Art and Art Therapy from Saint Mary-of-the-Woods College in 2010.
Jas sees children, teens, adults and couples at her studio, DAILY PRACTICE and offers group therapy for adults at her studio. Her work with children, teens, and adults is informed by years of art-making, deep Jungian roots and over 30 years of personal recovery.
Special populations that Jas has worked with include mentally ill adults, alcoholics and drug addicts, men and women with eating disorders, relationship addicts, at-risk youth, the LGBTQ population and artists who are "stuck". She also works with individuals in Third Stage recovery who use art and art-making in a Daily Practice.
Jas believes in the healing inherent in the creative process and makes art that draws on both religious and secular imagery. Currently, she is studying and writing Icon paintings using local dirt, Tennessee River water, and gold leaf to beautify and inspire.
You may see her line of Daily Practice Altar Art at her Dodds Avenue Studio or website jasmilam.com
---
Click here to register! (November 13th, 2020 from 3pm – 7pm $150)